Whilst researching the Wacom ArtPad II for my Macintosh Classic, I stumbled across some information that the Samsung Galaxy Note S-Pen is compatible with the pen used on the Wacom ArtPad and other tablets from that period. I love that the same technology is being used almost 30 years on.
So after buying a Wacom ArtPad II, which came with an original pen, out of curiosity I bought a few different types of S-Pen to confirm the information I had read.
I hope his is useful to somebody who has an old Wacom tablet but is missing a pen.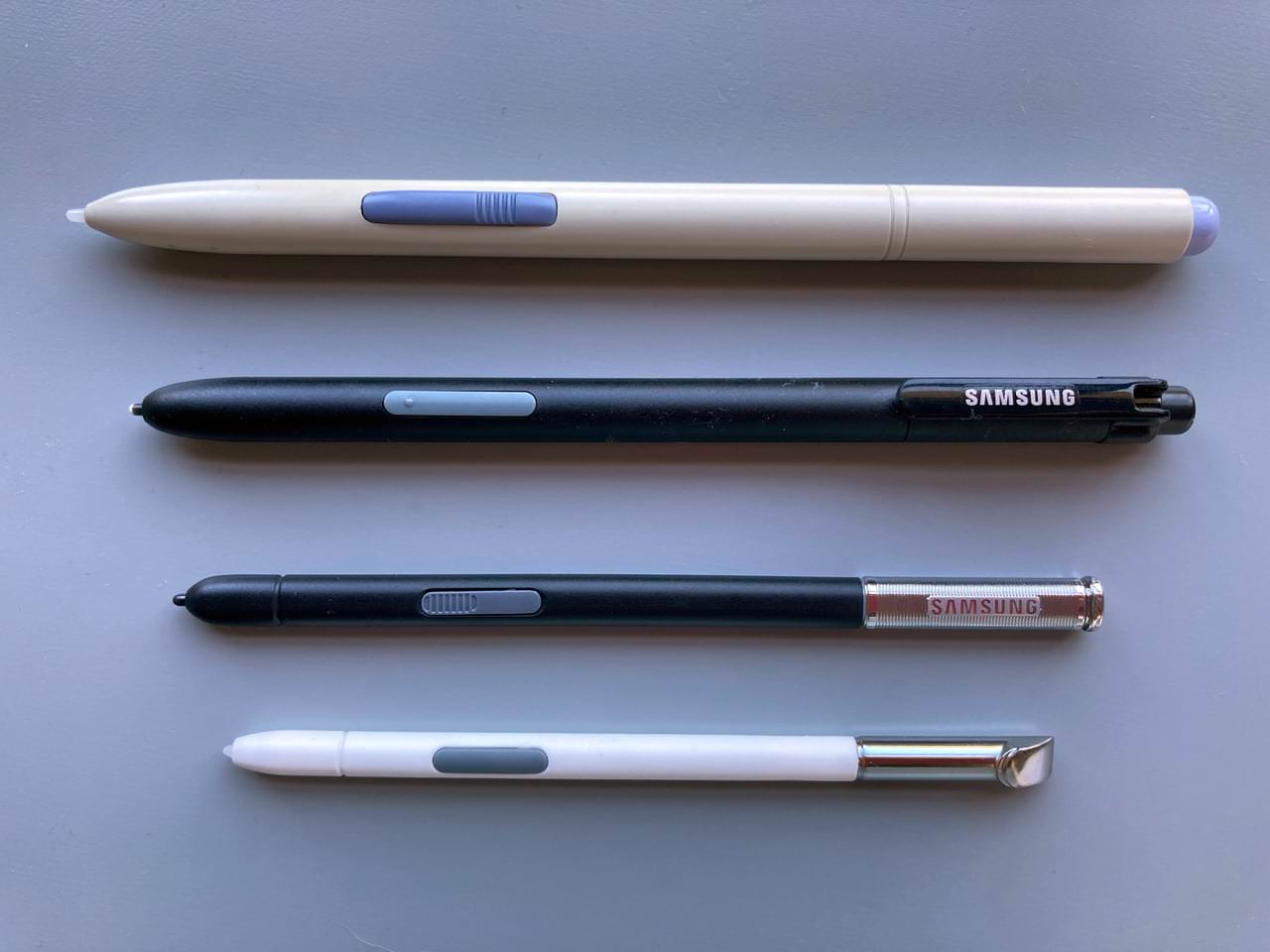 From top to bottom:
The original pen that came with my Wacom ArtPad II.
"Samsung S-Pen with Eraser" (here black, with eraser, about three quarters of the size of the original pen) cost £10. Works well, including the eraser. I would class it as a very good replacement for the original pen.
"S-Pen For Samsung Galaxy Note 10.1" (here black, a little smaller again, about a third or so the size of the original Wacom pen) cost £5. This works just fine with my ArtPad II. The nib has ever so slightly more friction than the original pen but it's a good stand in. The shape is slightly flattened so it's comfortable for pointing, but not for drawing.
"S-Pen NOTE 1" (here white, about the size of a Nintendo DS stylus) cost £2. Too small to use for writing. However the one I received was broken, in that it was always clicking.
Notes
Toshiba Tablet-PC pens are also known to be compatible
There are many other third party Samsung-compatible pens available
You might be able to rehouse the S-Pen, for example in a larger, 3D-printed body
Pen compatibility between models
UltraPen, Cintiq pen, "Penabled" pen, ArtPad / UD / CT pen, or S-Pen are interchangeable (this is what I needed)
Bamboo pens and Graphire pens are interchangeable
Intuos3 pens can only be swapped with other Intuos3 pens
References